LED Flat Panel LED White & RGB Light 36W.
The 600x600mm 36w Flat LED Panel Light is an excellent fitting with a fantastic light output and atheistically pleasing for many applications. They can be easily installed directly into a modular fitting, suspended ceiling or suspended from a ceiling to brighten up any work environment, with several colour temperatures to choose from to suit any mood.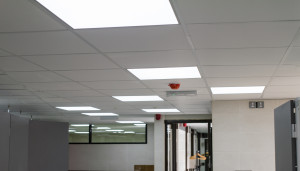 Expertly diffused to prevent glare, its soft light spreads evenly around a room. By replacing a fluorescent fitting with this product you're not only saving up to 50 per cent in electricity but you are also saving on maintenance costs as they have a lifespan of 30,000 hours.
RGB versions are now available, so your lighting can be any colour you would like.
Due to their ease of installation within the amBX system, beautiful light output and sufficient savings, these fixtures are a must for your projects.
Life Span 35,000 Hours – Wattage 36W – Working Voltage 36-42V DC.
Dimensions – 598mm x 598mm x 11.8mm – Beam Angle 120?
Colour Temperature – Cool White 5900K – Natural White – 4000K – Warm White – 3000K – RGB.
Lumens Cool White – 2357lm – Natural White – 2312lm – Warm White – 2127m.
Material – Aluminium Alloy Frame – Net Weight 3.75kg – IP Rating 20 – Operational Temperature -20 to 40ºC – Frequency 50 Hz.