Bespoke Glass Work Surfaces
There are many surfaces that can be used as a work surface but nothing compares to the high level of design, tactile touch and the durability of toughened 10mm satin or gloss glass.
If you are looking for that smart contemporary finish, then this should be the solution of choice.
10mm Satin or gloss glass can be used for kitchen worktops, breakfast bars, dining table tops or bathroom vanity tops, counter tops, desk tops, shelving, bar tops, media cabinet tops, working from home surfaces etc.
 10mm Satin glass media cabinet top – Back painted in classic black – Haus12
Beautifully designed satin or gloss glass, back painted in any colour can totally transform the appearance of your kitchen or bathroom. Choose from our range of standard colours or provide a colour reference such as RAL, Farrow & Ball, NCS etc and we can match the colour chosen. The glass can be supplied without the paint treatment if that is the design of the space.
Gloss finished glass has a true sheen, the darker the colour the more the glass would act like a mirror! The satin finish is created by applying an acid etching process during production.  Acid–etched glass is the perfect choice for more complex, decorative designs. Acid–etching creates a distinctive, soft, smooth, tactile satin touch and appearance which gives a true frosted look. The process leaves a permanent design which will not peel, chip or wear down over time.
Generally, 10mm thick toughened glass is used as the work surface covering within your home or business, kitchen or bathroom. It is professionally painted to the rear of the glass and adhered to the surface being covered offering a seamless finish and to protect furniture. Creating the high level of design that a modern kitchen or bathroom deserves.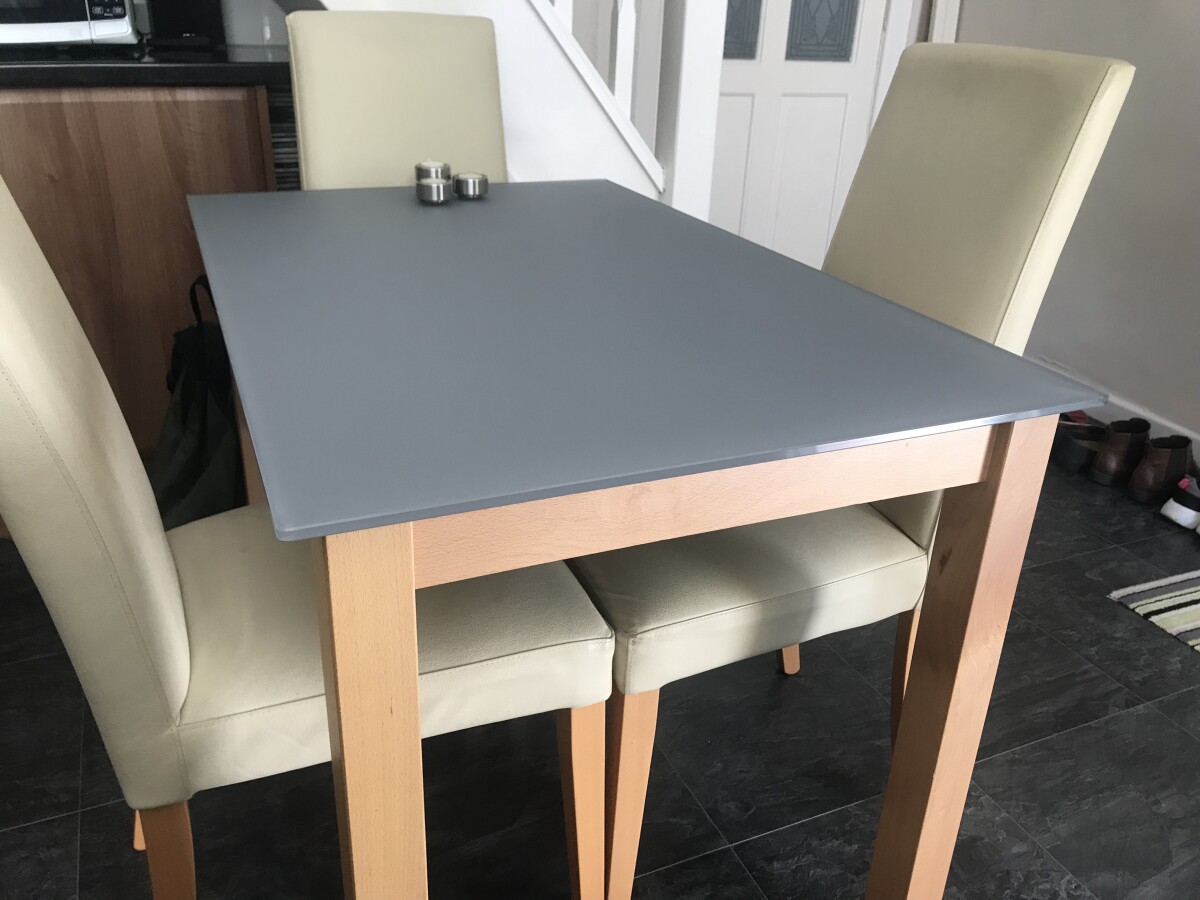 10mm Satin Glass dining table top – Back painted in grey.
Toughened glass is designed to withstand the high temperatures found within a kitchen hob area. The glass is none porous and hard waring. Once fitted and sealed with the supplied sealant then the solution will last for the duration of your kitchen. Although very tough, we would still suggest you place hot pans etc onto a trivet or board, just as you would with most alternative solutions.
We offer a none visible waterproof coating to the glass surface if desired, which makes for cleaning the glass much easier but it also offers a much more hygienic finish to the glass – Please request a proposal.
We offer a full template & fit service, which removes all of the worry of measuring for the glass required. Socket cut outs, notches, holes, or drainer grooves and shapes can be fabricated by modern CNC machines. Please note that the cut outs can only be a minimum of 40mm from the edge of the glass – Any over hang as a breakfast bar would be a minimum of 300mm without support.
Our ten standard RAL colours are: Black 9005, white 9010, red 3000, pink 3015, pale blue 5024, dark blue 5002, grey 9007, pebble 7032, charcoal 7016 and silver 7001. We also offer a range of metallic paint finishes.
Please find colours here – https://www.ralcolorchart.com/
Please note, once the glass has been designed, fabricated it is then toughened and finally painted. Once the glass has been toughened there is no way to add further fabrication to the glass.
Sheet sizes – – Larger sizes could be available. Current supplies can be erratic, so please check at your time of ordering.