For many years, glass has been used throughout the home and the commercial sectors but it is only in recent times that glass and mirror have been used as a series of decorative solutions, creating exquisite designs that will compliment any interior design setting.
Sun-Light Solutions: Provide bespoke glass splash-backs, work surfaces, doors, shower screens, balustrades, space partitions, mirrors, illuminated recycled glass surfaces etc.
Back painted glass – 10 standard Ral colours or we can colour match.
Gloss, satin or sandblasted glass available.
Toughened glass – 4mm to 25mm and CNC shaping available.
Mirror Range – Tints, coloured tints, antique, Mirror TV and Mosaic Bevelled Mirrors.
Textured glass – 6mm & 10mm clear, back painted or tinted glass.
100% Recycled glass – Available back illuminated or not.
Tinted glass – Textured or flat glass.
Fire Rated glass – 30 & 60 minute available.
UV Bonding – Display cases and furniture made to order.
Image printing – Hi resolution images can be sourced and printed to the back of glass.
Illuminated Alabaster stone features, splash-backs, furniture, artwork etc.
Template & fit service – In House service
Back painted glass as splash-backs, wall coverings, pieces of art are now the norm when designing new and refurbished properties or places of work etc. So is true for the use of glass as work-surfaces, table tops, bar tops, media/furniture tops etc.
The use of mirrors as wall coverings, splash-backs, drinks cabinets, cladding of furniture etc adds a totally new dimension to a space – Instant impact is achieved when you introduce a mirror of any size or finish.
The options are endless, desirable, functional, hygienic and easy to clean. They are the modern material of choice in this fast paced life we lead. All glass can be recycled and some of our solutions are purposefully made from recycled glass.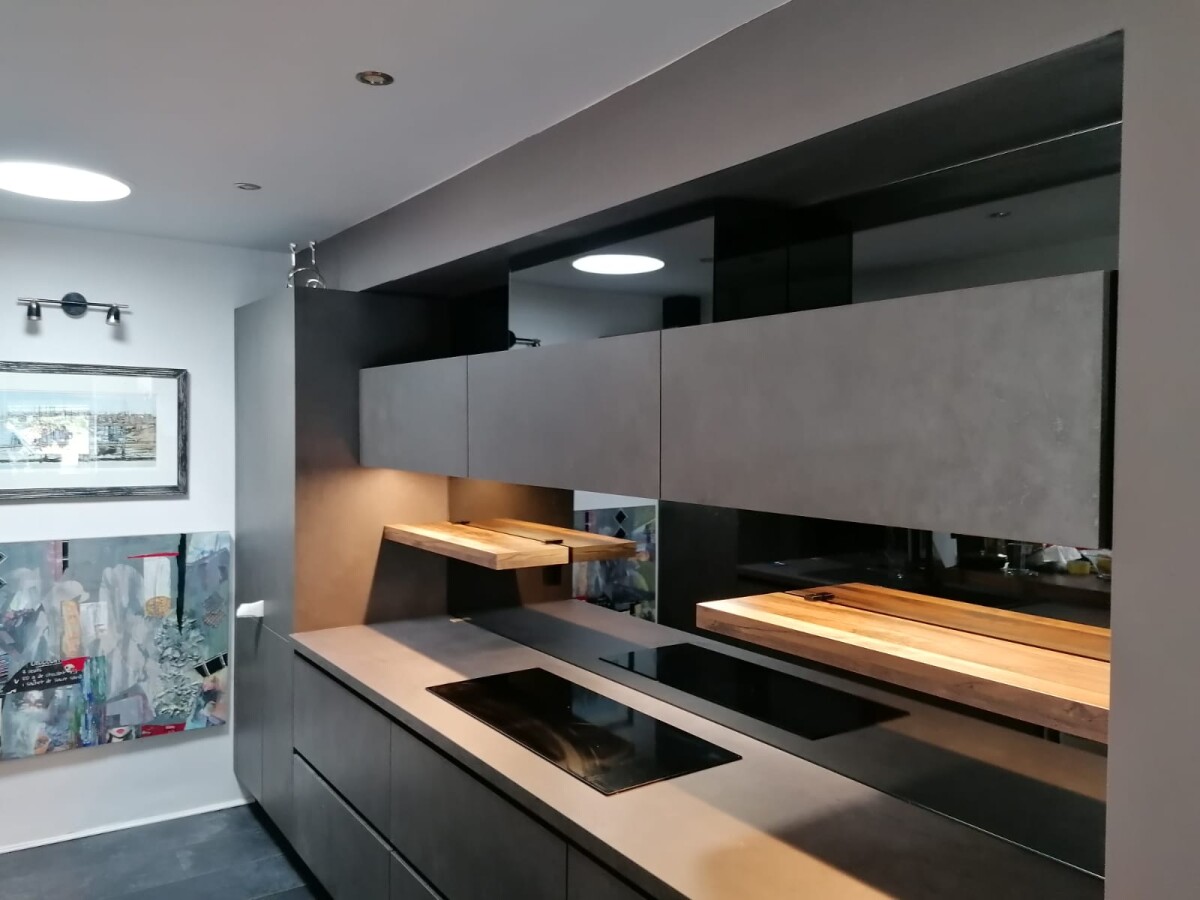 Smokey Grey Mirror installed above and below the units – The mirrors required precise hole positions fabricating to allow the shelves to be installed over the mirrors – kutchenhaus Bury