Find and Book Meeting Spaces 
Easier and Faster.
Smoother scheduling. Happier employees. Higher productivity.

Designed for modern offices and the future of work, Yeastar Workplace is a one-stop workplace scheduling solution for organisations to make better use of their meeting rooms and other workspace resources.
A better meeting culture starts with scheduling. As the first and integral part introduced, the meeting room booking system is composed of a cloud-based platform, wall mounted touch screen room displays, and smart sensors to help streamline space allocation and save in-person collaboration from unnecessary scheduling conflicts.
Looking for a place to meet? With touch screen room displays mounted outside meeting spaces, you can instantly tell the real-time room availability from distinguishable 3-colored LED indicators even from a distance.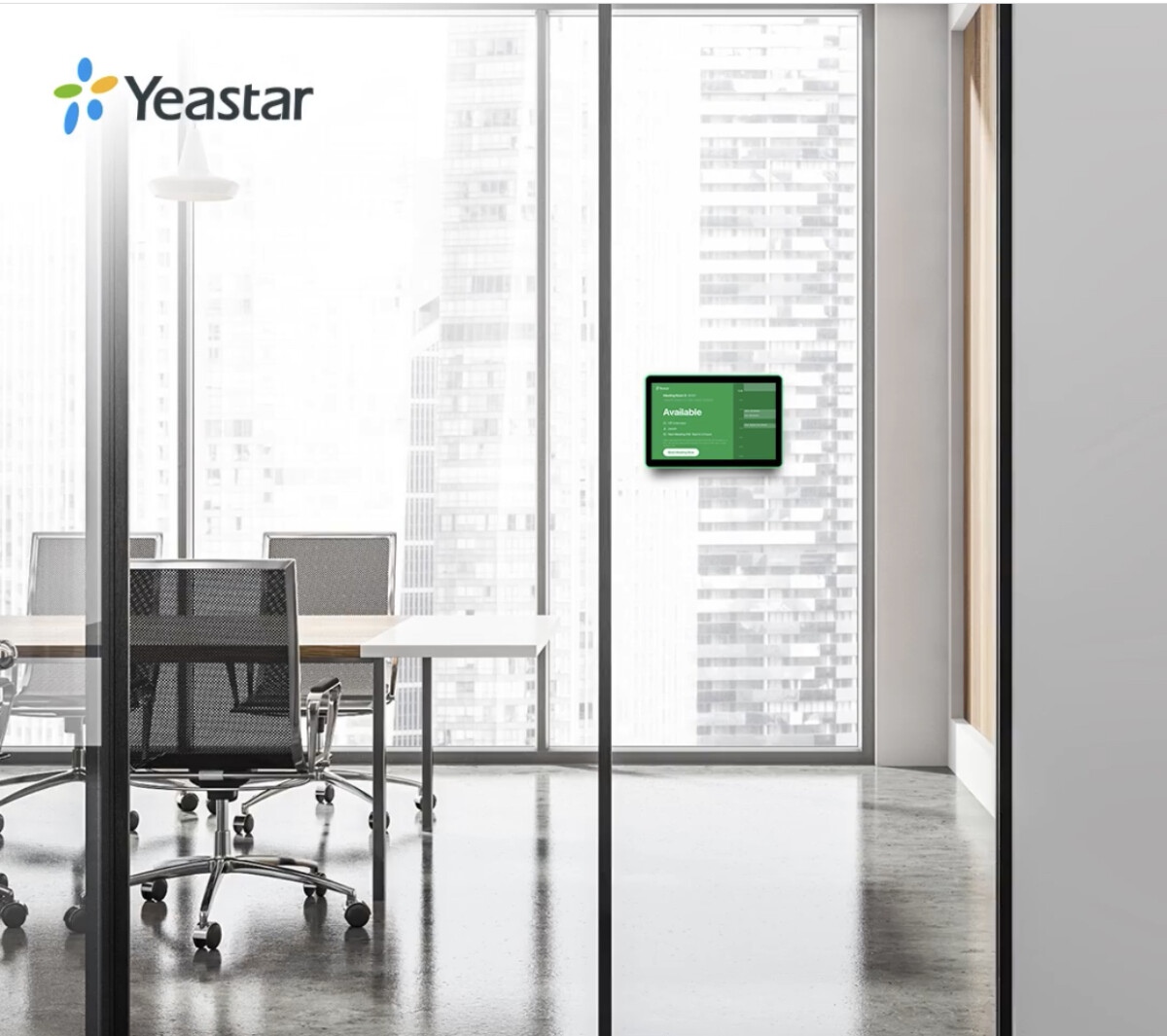 A 10.1″ LCD touch screen supports reserving on the spot and meeting check-ins & check-outs. Custom branding is also available to set up your company logo and background image that appear on the screen.
 Please find full product brochure here – Yeastar_Workplace_Datasheet_en
Efficient & Intuitive Online booking – At a glance statues & ad hoc booking – Ideal rooms for differing needs – Check in & auto release – Increased utilisation & more insight – Outlook & Google Calendar integration – In depth workplace analytics – Notifications for different events.
As today's workforce gets more collaborative, how to allocate office spaces has
become increasingly significant in ensuring employee experience and productivity, especially for businesses that operate in a hybrid working environment or a co-working space.
Lacking a centralised workplace management system, organisational chaos and the waste of resources are a daily occurrence. Take meeting spaces for example. Room by room search, stolen rooms, interrupted meetings, ghost meetings, tedious tasks, and back-and- forth communication. All those and more are creating huge headaches for employees and administrators alike.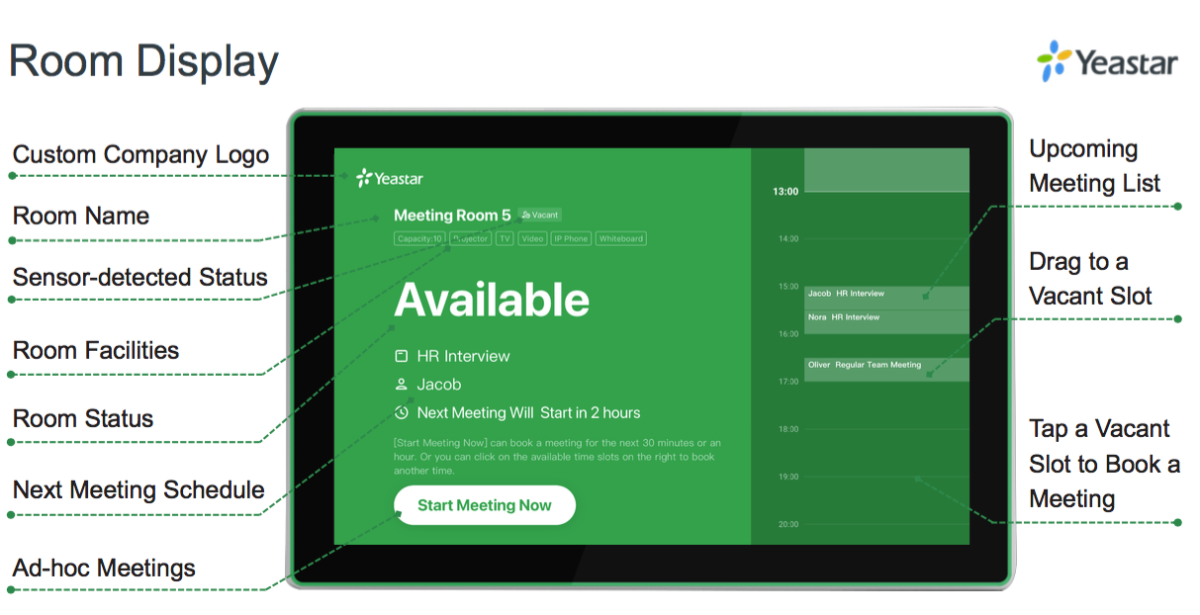 Book directly from your calendar system
Yeastar Workplace works with Outlook Calendar and Google Calendar or utilise the Yeastar online platform to provide a single point of entry for meeting events and room bookings. Instead of switching back & forth, you can create events, search for rooms, and make a reservation in seconds right on preferred calendar platforms.
Select a room without leaving your calendar system – Room details and seating capacity are all listed
Meeting schedules & changes are synced both ways – Supporting single sign-on for secure authentication


Designed to take the stress away from workplace management, Yeastar Workplace incorporates a cloud-based platform, touch screen room displays, and smart sensors to deliver an interactive one-stop workspace scheduling solution for modern offices and the future of work. Ultimately, it will evolve into an all-inclusive system supporting integrated management of meeting rooms, desks and visitors.
As an integral part of the complete Workplace solution, Yeastar's meeting room booking system enables users to schedule room resources effortlessly, avoid reservation congestions, save time on administrative work, and make the most of meeting spaces.
Touch Screen: 10.1″LCD IPS touch screen – Resolution: 1280 x 800
Active Area: 216.96(L) x 135.6 mm(H) – Aspect Ratio: 16:10 – 3-colour Side LED Indicators
Network – Wi-Fi: 802.11b/g/n – Ethernet: 100M/1000M ethernet Bluetooth: Bluetooth 4.0
Operating System: Android 8.1 – Power over Ethernet (PoE) or DC 12V/1.5A
Size: 249.36(L) x 168.36(H) x 24(D) mm Weight: 1.68 kg – Mount: side mount and wall mount – Operating Temperature: 0°C to +40°C
Please find full product brochure here – Yeastar_Workplace_Datasheet_en