Sun-Light Solutions creating animated art from digital light.
We understand that every space demands a unique atmosphere and realise that many spaces are truly uninspiring. Which is why we deliver the Digital Light Surface. The new medium for creating conceptual, animated artwork from digital light, in any environment.
Bring interiors to life with engaging digital light scenes by selecting one of the inbuilt colour scenes via 24/7 scheduling, our recent Lutron gateway, iWatch, iPad app, smartphone app, PC, wall switch or trigger scenes interactively by using a motion sensor. Imagine – moving cloud formations over a sky blue background with the sun rising up and across the surface – Just one example of a totally engaging but standard scene.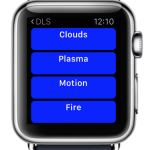 Please find the pdf brochure for SLS DLS 14 12 15
Manufactured using high quality materials such as an extruded aluminium frame of only 90mm deep. Intelligent RGB LED's and net-workable control system with a built in web browser for remote scheduling, set up and control of scenes. Mount your Digital Light Surface anywhere you desire, the solution can be mounted onto or into any surface. The light surface can be mounted landscape or portrait. Wall mounted or ceiling mounted, built into feature walls or ceilings, just about anywhere you can imagine. A recent development has been to create a circular option, minimum size is 1200mm and looks fantastic.
Multiple light surfaces can be mounted in series and the motion scenes can be synced together for fluid transitions from one screen to another.
The translucent fabric placed in front of the intelligent RGB LED's provides a perfectly diffused light source. Offering static colours or colour motion with fluid transitions of any colour imaginable. Digital Light Surface creates atmosphere wherever it is placed.
With 20 highly conceptually engaging scenes inbuilt to any DLS we realise that bespoke content for certain opportunities could be required, Sun-Light Solutions are perfectly placed with graphic design facilities on hand to discuss any requirement for digital light art, be that subtle motion of a colour theme to full motion of coloured light. Please drop us a line with your requests or ideas. http://info@sun-lightsolutions.com
This revolutionary experience can be found by contacting Sun-Light Solutions.
Full IP connectivity for integration, control, programming and remote access via the inbuilt web browser.
Available in three standard sizes – 1200mm x 600mm – 1800mm x 600mm – 2400mm x 1200mm. Panel depth 90mm – With bespoke sizes available.
Circular Option – 2500mm diameter.
Aluminium Frame as standard but available in any RAL colour upon request. Perfectly diffused fabric surface.
Mount portrait or landscape, on the wall or ceiling, surface or recessed. Free standing options available.
App controllable. Select from 20 Pre-set, conceptual light scenes with bespoke scene creation available. 24/7 scene scheduling facility. Now with Lutron control.
Multiple light surfaces can make up one theme.
Input frequency 50-60 Hz. Input voltage 100-240V. Input power max 60W/m². Pixel pitch 38mm.
Data & power mounted behind the surface for clean lines of installation