SMARTBAT is a portable battery-powered RGBW LED uplighter designed as an accent luminaire for all kind of events. SMARTBAT is equipped with a 24v lithium battery pack and a built-in WiFi module for cable-free operation.
The ultra- compact and lightweight design makes this light projector truly portable. The sturdy die-cast aluminium body is built for long-life durability for demanding applications. Offering IP64 protection, meaning no dust ingress and can withstand splashing water. With a tempered sealed glass panel covering the LED's.
The internal battery has an autonomy for 12 hours in colour change mode and up to 8 hours in full white output, while the charging time is only 5 hours being rechargeable countless times. The light source is composed of 4x8W high-power RGBW LEDs offering the full 16 million colour spectrum. With a 15 degree beam angle.
The SmartBat comes complete with a hand held remote control and infra red receiver for simple colour selection or the more powerful transmission of a DMX signal from a lighting control system is achieved via wireless DMX technology, using the additional WIFIBOX transmitter to the built in WIFI DMX receiver. Alternatively a smart app is available called SMARTCOLORS for any iOS/Android smartphone control.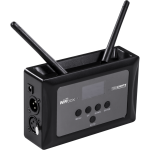 DMX in and out connections are XLR 3pin built into the base along with mains in and out. Ergonomic carrying handle for transportation and positioning. Adjustable foot support for beam tilt regulation (up to 20°)
Accessories: Chrome shrouds. Single rain covers. Padded carry case for four units and a flight case for four units.
Power unit: 100-240V 50/60Hz – Weight: 3,4 kg – Dimensions (WxHxD): 137x184x145 mm