The world's most cost effective, stylish and healthy heating solution!
Circular mirror Infrared Heating technology brought to you by Sun-Light Solutions Ltd.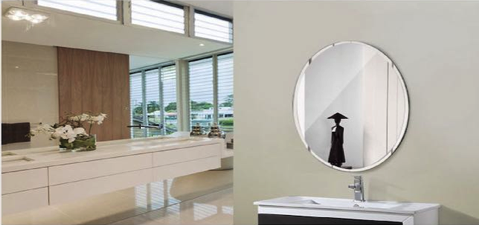 Designed and manufactured with style, technological excellence and precision in mind whilst being one of the most efficient and economical forms of heating. Complete with a 5 year warranty.
The functional circular mirror design at 850mm diameter offering 360w output with smart bevelled edge are the outstanding features of our infra-Red heating panel. The mirrored panel integrates into any environment by mounting onto a wall as a mirror and emphasise your taste in interior design. The heating system combines all the positive characteristics of the infrared heating technology coupled with elegance and your personal touch.
Sun-Light Solutions radiator enables cost-effective heating into a soothing, elegant and comfortable living/work space, simply connect to the mains electric or interface with home/business automation systems.
For use in the home, office, school, university, bar, club, cafe, restaurant, garage, workshop, canteen, saunas, gym, boat/marine, shop, sports hall, care homes, hotel rooms, halls of residence, church, garden room, home office, corridors, reception areas – Any room/space that requires warming.