Sun-Light Solutions dealer at&c of London, will be showcasing, for the first time, the amBX Light-Scene Engine to the hotel market at Sleep, The Hotel Design Event, Business Design Centre, London, 26-27 November 2014.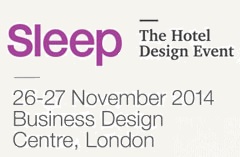 We are delighted to be involved in the event where at&c will feature the brand new 'Circadian' Light-Scene amongst other Light-Scenes. The scene delivers the right light, at the right time of day, to assist in the correction of the natural body clock by the use of light: a huge benefit to long distance travellers using hotel rooms as well as people in care homes and hospitals.
The Light-Scene will run on a schedule within the Light-Scene Engine and can be overridden at any time by choosing another scene; by choosing the schedule button again will trigger the scene which will fall back to the correct time of day through the use of the engines real time clock mechanism.
The amBX lighting control system is a multifunctional tool for delivering the most diverse of Light-Scenes for many different applications within a hotel. From bedroom lighting to the event space; bar; restaurant; spa or corridor to outdoor lighting or even the screening room, where fully immersive lighting can be achieved. From the control of simple intelligent white lights to multi-coloured lights, which can work in conjunction to music and/or video content to creating mood enhancing ambient Light-Scenes, amBX has it all.
The amBX is controlled via iPad apps, Colourscaper & Live, both will be on show at the event. The lighting used will be wireless DMX & battery powered, meaning no cables, these are easy to use and deploy in any location, in an instant.
Make sure you make the trip to the Sleep Event to find out what it's all about. at&c staff and the amBX system can be found at the entrance to the conferencing area.